back to exhibitor news and tips
Bring On the Kids
SEPTEMBER 18, 2012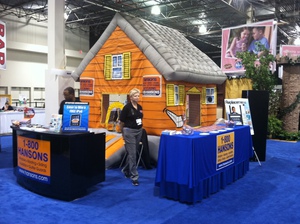 This exhibitor uses kids to attract the parents.
In my last post, I suggested you bring along some distractions to divert little ones' attention while you sell to the parents.

This week's photo is an exhibitor that actually uses kids to bring in the parents. This home improvement company had a "jumpy castle" created just for them. The kids see it, jump in, and create a captive audience of young couples who may just need a new home addition for their growing family.

David J Zimmerman
Southern Shows Inc.