back to exhibitor news and tips
Merchandise!
JULY 26, 2011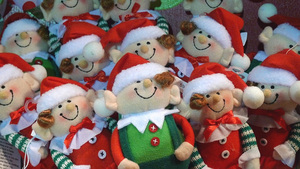 Creating 'photo opportunities' within your exhibit sells product.
Nothing like some smiling elves to cool down a hot July day. This week's photo is from an exhibit in our
Southern Christmas Show
. Besides making you smile, I hope it will make you think about how you display what you're selling at the show.
Good retailers know it's not what you display, it's how you display it, that sells products. These little guys bunched together to create a scene is miles better than if they were lined up on a shelf or table. So next time you're pulling out your wares at a show, think about impact, and about creating a 'photo opportunity' like this scene.
David J Zimmerman
Southern Shows Inc.