back to exhibitor news and tips
Standing On It
OCTOBER 4, 2011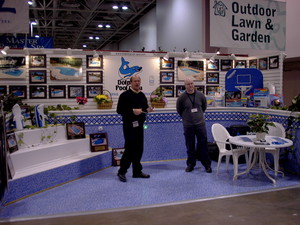 Let your floor covering tell who you are.
Some type of floor covering is a basic for any professional exhibit. And while most companies opt for carpet, remember that the floor, like the rest of your exhibit, can help tell your story.
This week's photo is a pool company that placed the show guest 'in the pool' by using a pool liner. Other examples I've seen of 'putting your message where your feet are' include: a sturdy vinyl with the company logo imprinted; a dance studio with dance moves outlined, and a resort with a map of the property on the exhibit floor.
If you do use carpet, here are some hints: Use a carpet pad underneath. Your feet will appreciate it, and your potential customers will linger a little longer. Also, stay away from gray carpet - it looks too much like the concrete floor.
And - if you make a product that people stand on, there's no excuse for having anything else underfoot.
David J. Zimmerman
Southern Shows Inc.