back to exhibitor news and tips
Redefining Demonstration
JUNE 14, 2011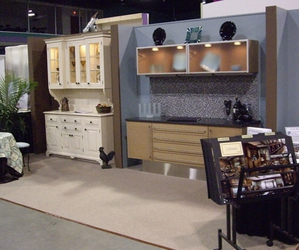 This company is demonstrating the range of work they can do.
I'll devote a later post to physical demonstrations, but this week I'd like to redefine demonstration a bit. To me, a demonstration is anything in your exhibit that shows (demonstrates) what you can do.
The kitchen cabinet company in this week's photo had a dilemma. Show guests were constantly coming by his exhibit - which was always a well-done cabinet display - and saying "We're looking for new cabinets, but yours are not the kind we're looking for." He would then attempt to explain, sometimes unsuccessfully, that the display is just an example, and he could create any style of kitchen they want.
Because of these comments, he decided to change his display to the one in this photo - a very traditional cabinet next to a very contemporary one. What he in effect did was demonstrate that "We can do this, and we can do that, and we can do everything in-between." It worked, and he's created a similar display each year since.
David J. Zimmerman
Southern Shows Inc.