back to exhibitor news and tips
Who or What?
MARCH 20, 2012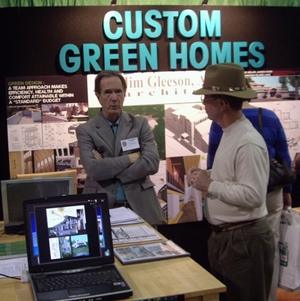 What's more important. Your company name or what you do?
As show guests pass your exhibit, what's more important for them to know – Who You Are, or What You Do?
A quick walk through any consumer show reveals that most exhibitors feel the answer is 'Who You Are.' That's based on the majority of exhibitors showcasing their company name as the prominent sign in the exhibit.
My answer is to think like a show guest. Show guests are mainly interested in WHAT you do, so that's what you need to tell them first. The exhibitor in the photo has it right. He wants show guests to know first that he designs "Custom Green Homes." His company name is there, but below the primary message.
Exceptions may be universally known names such as Kohler, and companies that are fortunate enough to have what they do as part of their company name.
David J Zimmerman
Southern Shows Inc.