back to exhibitor news and tips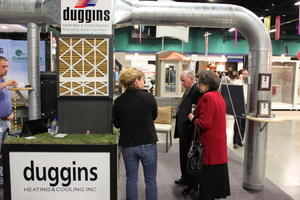 A working heat and air system got peoples' attention.
A few weeks ago, I wrote about redefining demonstrations. The message was to not confine your thinking about demonstrations to someone doing something. This week, I'd like to discuss old-fashioned hands-on demonstrations. They are still hard to beat for attracting attention and making your point.
Most people know demos are great, but most people also think they don't have the right product to demonstrate. Think again. Great demonstrations I've seen are: an arborist repelling from the ceiling; a custom door builder with one of his woodworkers carving in the exhibit; and a heating and air company with a working duct system.
A word of caution: Make sure your demonstration sells your product. We once had an appliance dealer who decided to bake cookies to draw attention to their high-end ovens. The problem was that not everyone wanted the high-end oven, but everybody wanted a cookie. They were so busy baking cookies, they did not have time to sell ovens.
David J. Zimmerman
Southern Shows Inc.