Meetings and Workshops
Breakfast with the Comissioner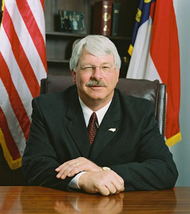 The Tobacco Farm Life Museum will hold its annual Breakfast with the Commissioner on Friday, February 4 at 7:30am in the Holshouser Building at the show. The highlight of the event will North Carolina Commissioner of Agriculture Steve Troxler presentation of the "Excellence in Agriculture" award.
Proceeds from the breakfast assist the Tobacco Farm Life Museum in "preserving and presenting the history and heritage of the rural North Carolina farming community." For more information, visit
www.TobaccoFarmLifeMuseum.org
Kickoff Breakfast
Join the Wake County Agribusiness Breakfast on Wednesday morning for the annual show kickoff breakfast. Held at 7:30am in the Hunt Horse Arena restaurant, this year's speaker will be Wake County Commissioner Vicki Adamson. Tickets are $10. For more information, contact Joyce Adams at 919-801-4030.
Annual Meeting of the Tobacco Growers Assocation of North Carolina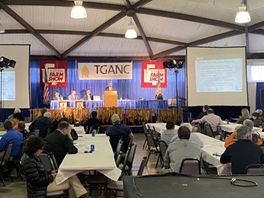 Members of the Tobacco Growers Assocation of North Carolina gather in the Holshouser Building on Friday to learn the latest news surrounding tobacco, and hear from industry experts and elected officials. For more details, visit the
TBANC Website
.
Ag Development Forum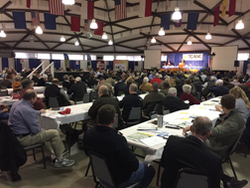 The 17th Annual Ag Development Forum will feature Agriculture Commissioner Steve Troxler's annual State of Agriculture address, an economic outlook, and other issues facing North Carolina agriculture.
It all starts at 9:30 a.m. on Thursday, February 3, in the Gov. Holshouser Building at the N.C. State Fairgrounds in Raleigh.
For more details, visit https://www.ncagr.gov/agforum/