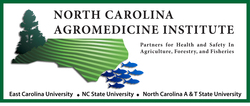 NC Agromedicine Institute
exhibit # 1009, 8505
Stop by and see us to learn ways you can protect the farm's #1 asset - the farmer!

Find us inside at booth 1009 in the Kerr Scott Building where you can have your blood pressure and blood sugar checked and gather tips on ways to prevent illness and injury related to working on the farm.

Stop by our outside booth 8505 to see a PTO safety demonstration - it could save your life!

Farm-related stress got you down? We can help - ask us how!

Are you a small, limited resource, beginning farmer/rancher? Do you grow specialty crops and/or employ migrant farmworkers? Ask our COVID-related cost share programs.

And, don't forget, the Institute is your 'go to' source for respiratory protection when using pesticides labelled for respiratory protection.