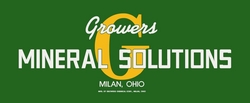 Growers Mineral Solutions
Improving the profits of farmers since 1955, Growers Mineraal Solutions (GMS) supplies innovative farmers with an environmentally friendly, nontoxic plant food and livestock mineral supplement - economically and competitively.

GMS is a "clean" liquid used as a starter on the seed in the row and a foliar spray for forages, grains and produce for better nutrition, taste and shelf life.

GMS is a mineral supplement.
Foliar Spraying --
Target fertility feeds crops efficiently