back to exhibitor news and tips
What Do You Think?
JANUARY 5, 2016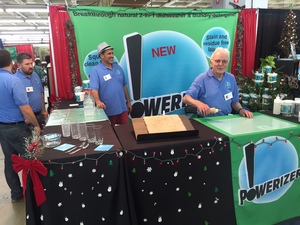 The gentleman is this photograph, taken at the Southern Christmas Show, is Max Appel. He is the founder of Orange Glow International, which for many years marketed OxiClean and many other products. Max discovered famous pitchman Billy Mays, who introduced OxiClean to the world on television. It was such a success that Arm & Hammer bought the product from Max in 2006.
Max is what's known as a serial entrepreneur - someone who loves starting new businesses. And his latest one, as you see in the photograph, is another cleaning product, Powerizer.
His main reason to be at the show was not to sell the product, but to find out what people think about it. You see, Max knows that real people, with real lives and real opinions, are who comes to shows. Because of that, shows are better - and less expensive - than a focus group or other method to determine if a product is viable.
Thinking about a new product or service? "Pitch" it at the next show and you'll soon find out if it has potential.
David J Zimmerman
Southern Shows Inc.