back to exhibitor news and tips
Creating Snapshots
NOVEMBER 13, 2012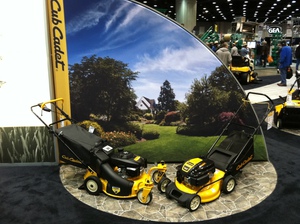 Give show guests an image they will remember.
While attending the two-million-square-foot National Farm Machinery Show in Louisville, I was reminded how overwhelming shows can be. Like visiting a large city for the first time, I came away with mental 'snapshots' that created an overall impression of the show.

When looking at this actual snapshot I took of the Cub Cadet exhibit, it occurred to me that exhibits which provide mental "photo opportunities" are the ones that will be remembered. Cub Cadet has set a scene to focus your attention, and to block out the expanse of the show.

David J Zimmerman
Southern Shows Inc.