back to exhibitor news and tips
Rising Above the Clatter
NOVEMBER 29, 2011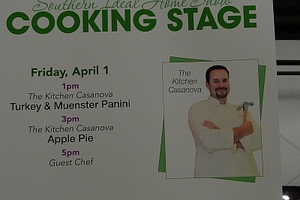 Photo of the stage schedule promoting the Kitchen Casanova
Shows, and the whole business world, for that matter, are competitive places. You're often going head-to-head with your best competition. So how do you stand out from the clatter?

Get creative. Figure out how to hog the publicity. Do something memorable. That's how.

Case in point is remodeling contractor Eddie Casanave, owner of Distinctive Remodeling in Raleigh. Like all good remodelers, Eddie knows that kitchens are high-margin jobs, so he set his sights on attracting show guests looking to rework their kitchen. His solution was to become the Kitchen Casanova, the remodeler/chef who understands how to create a real cook's kitchen. And once your new kitchen is finished, will prepare your first meal there.

He created a kitchen stage, conducted cooking classes throughout the show, and drew a lot of attention. As the show producer, we embraced his effort and helped him promote what he did at the show. It was a win-win, and it worked.

David J Zimmerman
Southern Shows Inc.