FASHION
Cowhide Shoes-Comfy, Cute & Unique
If it weren't for Angela's career as a teacher, Vacas never would have existed. In fact, it was the engagement received from her students on her first pair of cowhide shoes that helped her realize how much people love them. Vacas are cute, fun, comfy, and unique. What more could you ask for as a teacher?! Every time she wore the cowhide shoes to class, it struck up fun conversations with the students. One class even nicknamed them "moo-cows". This nickname almost became the official name of the company! In her household, she still refers to that first pair of shoes as her moo-cows.
After launching Vacas to the world this year, there was a big question surrounding how her company would give back to the community. It needed to be something that Vacas could be part of in a helpful way, and create a voice for good. It didn't take long for her to choose her K-12 school teachers and come up with a 15% teacher discount, no questions asked. Just type in teacher15 into the discount code field when checking out, and wham! There you go! What's even cooler about Vacas giving 15% off to teachers is knowing how these teachers will benefit further from the conversations with students about their unique shoes. Kids absolutely love them. Cheers to all you teachers out there!

Runway Fashions are Center Stage at the Southern Women's Show
The latest looks in fashion willl grace the Main Fashion Stage each day with a variety of runway shows; featuring the latest in spring fashions, party wear, and so much more! Make sure to check out the daily fashion shows so you know how to prepare your closet for the upcoming season!
Veranda 804 Brings the Fashion to You!
From the very start Candace and her husband knew they wanted to create a unique and different shopping experience for their customers. They did not know exactly what shape that would take at first. As they put their creative minds together they quickly knew they wanted to create a mobile boutique that would bring unique and affordable styles to their customers. With our fast paced lives these days it is not always easy for women to find time to go out and shop for themselves. So, they bring the fashion to you!! When they think about their amazing customers they picture welcoming them onto their big southern Veranda chatting and laughing. Talking about who is wearing what on their date this weekend, the outfit their co-workers just couldn't stop raving about and that insanely soft and comfortable sweater that is perfect for a glass of wine and good book. They want these women, their friends, to experience southern hospitality, fashion and friendships all wrapped in one brilliant package. They hope you join them for the fashion and return to them feeling like family!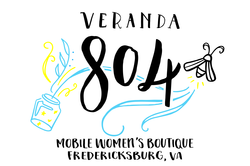 Shop Harvie
Shop Harvie
is a female owned and operated Richmond based online boutique for the modern woman whose confidence shines through her everyday style. Find their affordable everyday fashion at this year's Southern Women's Show! www.shopharvie.com.