back to last years exhibitor list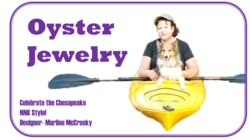 Celebrate the Chesapeake NNK Style!
exhibit # 3001
Oyster Jewelry! We collect our oyster shells in the Northern Neck of Virginia and wrap each in wire. Each item is unique! Wear the Bay, put your passion on display!

You'll enjoy this easy to wear oyster bracelet. I made it with silver-toned wire. The wire has a copper core and won't tarnish so it is entirely maintenance free. Carefree elegance! I found this shell at Washington's Birthplace in the Northern Neck (NNK). It has been worn smooth by the Potomac River.
I wove the cuff to be wide enough to be secure and flexible to give you the perfect fit. You'll love to wear it!
But remember, there is ever only ONE of everything I make!