back to last years exhibitor list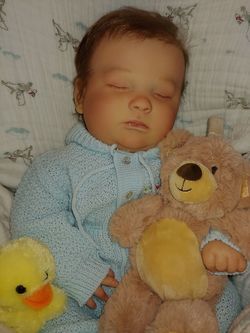 Be Still My Heart & Granna's House Reborn Dolls
exhibit # 404
At Be Still My Heart and Granna's House nurseries we strive to bring dolls to life. We have an amazing collection of unique, hand-painted collectors dolls for all ages. We have a special connection to every doll that comes out of the nursery as we spend between 70 and 100 hours per doll creating these beautiful babies. These artistic creations are weighted to feel lifelike and are an amazing conversational starter with men, women, and children alike.

Features of the dolls from our nurseries include:
- Minimum of 20 layers of Genesis heat-set paints to create the skin tone and depth
- Life-like veining, mottling, and skin colors to match the variety of life
- Every hair is individually placed! Hair styles, eyelashes, and eyebrows
- Premium alpaca hair is soft to the touch and durable
- Premium glass beading used for realistic weight balance and distribution

Our most common customer buys one of these babies for a collection, or as a gift for a young family member. We also have an amazingly personal market serving anxiety disorders due to loss, Alzheimers Disease, dementia, and even PTSD. The power of caring for a child is exceptionally healing.

We strive to make these babies look and feel as realistic as possible regardless of the application. These babies will look, feel, and even smell like a newborn baby. Watch how realistic your response is to holding these amazing pieces of art and you will immediately know why we pour so much love into every baby.

Stock models are available as well as the ability to create custom creations that look, weight, and feel just like one of your own!