back to last years exhibitor list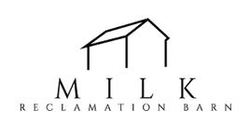 Milk Reclamation Barn
exhibit # 106
In 2004, we pulled into the driveway of this small farm in North Baltimore County. The charming farmhouse was perfect for our small family of three. But what was most endearing was the huge barn that once was home to dairy cows and a pasture in its heyday that grew berries for the local markets. The barn was beautiful, but needed someone with a vision to bring it back to its former glory.
Over the years we spent time remodeling the old barn. It was a labor of love. We worked full time jobs and spent many weekends sanding, painting, and repairing to bring out the barns beautiful architecture. We designed doors and made plans to repurpose the barn. We needed professional help. Fortunately we found Simeon Sultzfus, our barn expert. Simeon made our vision come true and the barn over the years turned from a community eyesore to what some neighbors have called an important iconic symbol of this small town at a crossroads 30 miles north of Baltimore City that is well known for its equestrian community.
With a big barn and no cows or horses we had room for our passions, hobbies, and artistic expression. For years, we would host candle making days with friends and family. What started as a passion soon grew into a small side business. The candle company now occupies the barn in its entirety. Milk Reclamation Barn sells candles to high end retail shops from coast to coast. We are truly a barn made candle company.