back to last years exhibitor list

Beaded Soul Jewelry and Accessories
exhibit # 1034
Welcome to the colorful world of Beaded Soul Jewelry! Hand crafted and high quality colorful beads in styles to match every outfit and mood! Especially designed for the casual beach lifestyle and to look good dressed up or down for every occasion. Find the perfect bracelet, necklace, earrings or set for your next outing.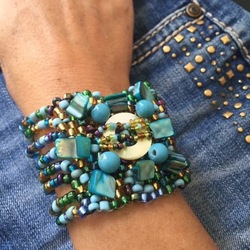 SWS Show Special
Beaded Soul Jewelry and Accessories
Buy 4 Get 5th Free! Buy four items and get your 5th item free. The least expensive item will be free. Prices range from $6 to $10.
Offer Expires on June 30, 2021