back to last years exhibitor list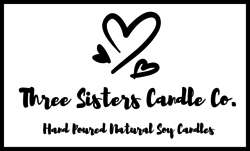 Three Sisters Candle Co.
exhibit # 1611
Three Sisters Candle Co. is a small locally owned candle company in McMinnville, TN, operated by a mom and three young daughters. We hand pour soy candles and wax melts that contain only three things: natural soy wax, cotton wicks and fragrance oil. No additives or dyes help keep our products as natural and clean burning as possible! We can't wait to meet you at the show!