back to last years exhibitor list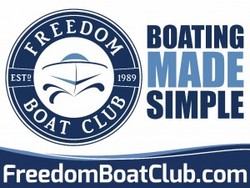 Freedom Boat Club
exhibit # 1139
Freedom Boat Clubs are designed for folks who want to access a versatile fleet of boats on a regular basis, at an affordable cost of entry.

While clubs in general may differ in their membership structure, Freedom Boat Clubs all operate with a 1x entry fee and locked-in monthly dues. FBC members have unlimited access to the club fleet, but do not own them and never incur any service or storage fees. Reservations are made through a proprietary online system.

Freedom boat club makes its fleet available to its membership and its management handles all aspects of service and maintenance. Freedom Boat Club employs a proven member-to-boat ratio formula to ensure there are always plenty of boats in the fleet to service the demand of members. And unlike other club organizations, Freedom Boat Club rotates new boats into the system regularly, while moving them out of inventory after three years of usage.

Members who join Freedom Boat Club on a year round basis enjoy reciprocal access and can boat anywhere Freedom Boat Clubs are located. This is one of the most valued features of membership in Freedom Boat Club.