What's Cooking
CHALLENGE BUTTER BRINGS ADDITIONAL FLAVOR
Award-winning Challenge Butter is spreading flavor and fun at this year's Michigan International Woman's Show as sponsor of the event's culinary stage where popular chefs will be sharing their favorite recipes. The Challenge Butter Culinary Stage will be home to daily cooking demos – many showcasing Challenge Butter. Challenge Butter will also be on-site giving fans the chance to win free butter, their ever-popular squishy cows and other prizes.
Sausage Gravy Stuffed Biscuits and Gravy
These sausage gravy stuffed biscuits are perfect for freezing ahead of time for busy mornings!
INGREDIENTS:
SAUSAGE GRAVY:
8 oz (227 grams) bulk country breakfast sausage
2 tablespoons Challenge Butter
2 tablespoons all-purpose flour
1 1/4 cup (310 ml) milk
1/2 teaspoon coarse salt
1/4 teaspoon ground black pepper
BUTTERMILK BISCUITS:
2 1/2 cups (300 grams) all-purpose flour
1 tablespoon baking powder
1/2 teaspoon baking soda
1/2 teaspoon coarse salt
1/2 cup (113 grams) Challenge Unsalted Butter, cold and cubed
3/4 cup + 2 tablespoons (215 ml) cold buttermilk
1 large egg + 1 teaspoon water, for egg wash
DIRECTIONS:
TO MAKE THE GRAVY:
In a skillet over medium-high heat, brown sausage until cooked through, breaking up the sausage into small pea-sized pieces as it cooks. Transfer to a paper towel-lined plate to drain.
Melt butter in skillet. Add flour and whisk until combined. Add milk a little at a time while whisking constantly until all milk is incorporated and gravy is smooth.
Season with salt and pepper to taste. Cook 1-2 minutes until gravy is thickened. Stir in sausage.
Chill in the freezer for about 15 minutes while you prepare the biscuits.
TO MAKE THE BISCUITS:
Preheat oven to 400 degrees F. Line a sheet pan with parchment paper or grease lightly with butter.
Combine the butter, baking powder, baking soda, and salt in a large bowl. Add the cold cubed butter and use a fork or a pastry blender to cut the butter into the dry ingredients. Mixture will look very crumbly.
Add buttermilk and use a spoon and then your hands to bring it together. Dump the mixture out onto a clean surface and knead it a few times to incorporate any dry bits. (Mixture will look very dry after you add all the buttermilk milk and you may be tempted to add more, but if you work it with your hands for a bit, it'll come together.)
Lightly flour your surface and roll biscuits out to 1/2 inch thick.
Use a 3-inch round cutter to make 12 rounds. Place half of the biscuit rounds on the prepared pan and brush with egg wash.
With a spoon or small cookie scoop, scoop cold gravy onto the center of the biscuits on the pan. Gravy should hold its shape. If it's still too loose, freeze for a few more minutes.
Use your fingers to gently stretch the remaining biscuit rounds a bit. Brush with egg wash and place on top of the scooped gravy, egg wash-side down. Press biscuit rounds together, sealing the gravy inside.
Brush tops with more egg wash and bake until golden brown, 22-25 minutes. Serve immediately or cool and store well-wrapped in the fridge for up to 3 days and in the freezer for 1 month.
Notes:
You may have leftover gravy. Spoon it over baked biscuits before serving, if desired.
To reheat from frozen, heat in the microwave on high for 2 minutes.
YIELD: 6 Biscuits
For more recipes, please visit
www.challengedairy.com
.
Chef Monica Spices up the Cooking Stage
Chef Monica is a charismatic celebrity chef, who has competed and entertained audiences locally and nationally on platforms such as Food Network's Guy's Grocery Games, Cutthroat Kitchen and a guest on Chef Jeff Henderson's Flip My Food. She hosts cooking classes for youth, hospice survivors, and families of domestic violence, executive teams, suicide prevention, churches, seniors, girl's night out, and other special occasions.
Her company, Chef Monica Blends, released its signature spice line in 2018. Chef's Spice Blends can be purchased on Amazon Prime and at the Southern Women's Show. Chef Monica inspires audiences with her personal mission of "bringing families back to the table". She loves encouraging
families to cook at home more often with fresh ingredients, creating healthier eating habits. Her #Eat2LiveLonger campaign encourages families to gather at the kitchen table, eat more meals that are farm-to-fork, and create a sustainable healthy eating lifestyle. She has challenged herself to take classic southern dishes and make them a little lighter with fresh foods and fusing them with other cuisines.
Chef Monica is the proud host of the Cooking Stage at the 2020 Southern Women's Show. Stop by the stage or her exhibit space to sample her delicious creations and take home great tips for your own kitchen!
Chef Paul Penney, CPC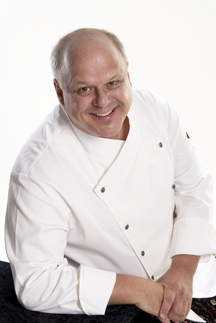 Mixing Australian wit and charm with an entrepreneurial flair,
Chef Paul Penney
has become a prominent fixture in Michigan's culinary circles. After serving many years as the President of a high tech company, Chef Paul swapped out his tie for a toque in 2001 to launch Aussie in the Kitchen personal chef service. He has appeared on many TV segments throughout the US and is currently a regular on the Fox 2 Detroit morning show with Deena Centofanti demonstrating healthy alternative recipes.
Born in Adelaide, South Australia, Chef Paul's formal training includes the famed Le Cordon Bleu in Ottawa, Canada, the U.S. Personal Chef Institute in Phoenix, AZ, and many other culinary classes and workshops around the country and abroad. Chef Paul lives in Canton, Michigan with his wife Sandy and daughter Emma.
Pour. Savor. Enjoy!
It's a fun, interactive tasting bar experience!
Grapes & Olives On Tap
specializes in Naturally Flavored Balsamic Vinegars and Olive Oils. Their high quality, imported Olive Oils and perfectly oak-aged Balsamic Vinegars are infused with herbs, citrus, berries, chocolate, mushrooms and fruits. Enjoy a taste of fresh, no preservatives, healthy, antioxidant loaded Olive Oil. Balsamic Vinegar has the same healthy attributes as red wine! It's a great way to add flavor to any food in a low-calorie, healthy way! These products are a wonderful gift for yourself and others. Visit them for tips on tastier meals and healthier lives.