back to last years exhibitor list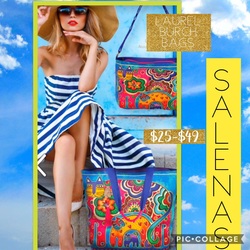 Salena's Accessory Showcase
exhibit # 1201, 1203, 1300, 1302
S A L E N A' S A C C E S S O R I E S ........BRINGING YOU THE BEST SELECTION OF HIGH STYLE TRENDY HANDBAGS & JEWELRY at Prices you'll appreciate!

Shop the HOTTEST TRENDS for This Summer Season!


Glorious NEW COLORS ....all so very enticing!
Our New HANDBAG Collections for this season are absolutely on target With the trends seen in the Designer Fasion Shows!
WE HAVE THE LOOKS YOU WANT.... for LESS!!!

Come shop the HOTTEST TRENDS ... Our new Spring-Summer BAGS ARE SPECTACULAR!!!! A
Be sure to add a POP OF COLOR THIS SEASON!


A diverse collection from sleek CLASSIC Designer Inspired styles with beautiful polished hardware in vibrant colors..... to Bohemian ETHNIC CHIC trendy styles with intricate beaded designs and patterns!

We're Featuring this season Fabulous Fun BEACH - TRAVEL BAGS AND EVERYDAY NOVELTY LOOKS .... Exciting original designs from artists like Laurel Burch and Paul Brent! These whimsical Bags are totally color-fast and will not fade.... Printed on cotton canvas and ultra strong!!!!

Lots of Crossbody styles (which everyone loves!)...and of course our Crystal encrusted bags to add a little BLING to your life!

As you know ...we have the best assortment and this years HOTTEST styles that you will ADORE!!!
! THIS YEAR WE ARE ON TARGET WITH ALL THE DESIGNER LOOKS....COME EARLY AND GET THE BEST ASSORTMENT!!!! Our Regular loyal repeat customers know to come shop early!

We will be bringing you all the NEW JEWELRY styles for SUMMER 2018-.lots of BRACELETS!!! Our BRACELET BAR IS AMAZING!!!!!The more the merrier, stack a few or wear them all just like the celebrities do!!!!

Our new necklace sets range from fun whimsical Floral designs .....Ethnic Chic bold styles....and of course the Classic Designer looks!

Come say hello and see the New Exciting Trends for THIS EXCITING SEASON>>>we are so thankful for all of our loyal repeat customers who shop with us each and every year at the Southern Womens Shows!!!
Hope to see you all soon!
Warm Regards,
Salena and Fred :)
CALL IF YOU NEED US-904-631-6708

P.S. LOTS OF GREAT NEW Straw BAGS JUST ARRIVED....THE DIVERSITY IS FABULOUS...You won't know which to pick!
Be sure to check out our BRACELET BAR!! Mix Match& Stack.... The more the merrier!! Create a Stack -Five Bracelets for $35!

Be Sure to come see our Bracelet Bar!!!

Florals ARE ONE OF THE HOTTEST TRENDS FOR SUMMER!!! Come see our exquisite Handbags & Flower necklaces!