back to last years exhibitor list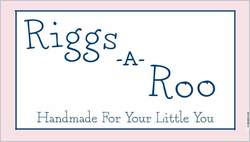 Handmade for your little you.

Every carseat, booster, and stroller blanket is handmade and will keep children warm and safe during all four seasons. We offer sizes ready made from newborn to toddlers. Custom sizes and fabric styles are available at no extra charge with a short turn around time.

We also have handmade burpcloths, blankies and 8 different color Roo Clips.

Check out our facebook page to see the different products and packages we offer.

Roo Clips
Dont let it get away from you,
Clip it to your little you

Check out our facebook page for more Roo Clip Colors.


This is an example of one of our custom made carseat blankets. We offer carseat, booster, and storller blankets. Each blanket has multiple uses.