Shopping
See What Happened at the 2019 Show!
Looks We Love
The Southern Women's Show is the destination for all fashionistas. Shop in good company at local specialty boutiques and trendy boutiques from all over the country that have the latest trends. Browse the amazing variety of tops, pants, skirts, dresses, scarves, shoes and more.
Salena's Accessories
You won't want to miss this fabulous new addition of Salena's Bracelet Bar! CREATE YOUR OWN STACK of BRACELETS...Mix Match & layer...the more the merrier! Exciting vibrant summer colors - sparkling crystal and stone beaded stretch bracelets that you will adore. The biggest problem is you will want them all! Salena will gladly help you put together the perfect combo! Swing by
Salena's Accessories
and have some fun while picking out Your New Arm Candy.
Get the 'Designer Look' Without the Designer Price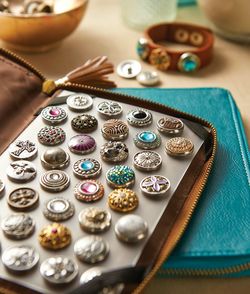 Fanelli
sells thousands of beads and snaps, yes we said "Snaps". With their beads you are able to tell your life story or just make a beautiful piece of jewelry.
Fanelli is a high fashion, high quality, jewelry company that brings the latest fashion trends to life. Appealing to every taste with affordable pricing, their line consists of classic to contemporary and traditional to trendsetting.
Snaps are the latest in jewelry fashion accessories. From sporty to classy in just a snap!
Shopping for Your Favorite Furry Friend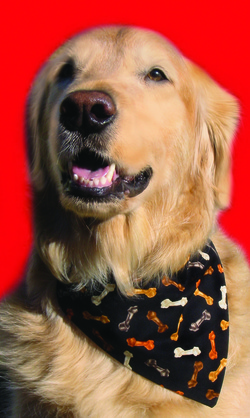 Abc PetWear
was started by three neighbors in early 2000. They made bandannas for their own pets. Other people in the neighborhood saw their pet bandannas and requested that they make some for them. They started selling their bandannas at local markets and soon had branched out to markets all along the east coast. Abc PetWear is located in the Richmond Virginia area. Their bandannas are designed for any pet that wears a collar. Their harnesses and harness mini-skirts are made for the smaller breeds and will accommodate pets from 2 lbs to 32 lbs and their belly bands are for those guys who like to mark their territory. Most of their line is made of 100% cotton, machine washable, fully lined and very comfortable for the pet. Check them out and bring something home from the show for your four-legged friend!
Lou Moon Candle Co.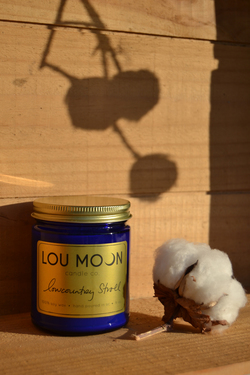 Lou Moon Candle Co.
is based out of Rock Hill, SC, where Austin and Chris Lange pour each soy wax, phthalate free candle with love and care. They work carefully to source all of their materials from soy wax, fragrances, and candle glass as locally and based in the USA as possible. Their hope is that their signature candle scents bring a little bit of Carolina to your home.
Lilla Rose
Lilla Rose
is a company that began as a model for sharing one of the most innovative hair styling accessories: the Flexi Clip. The Flexi answers every problem posed by more traditional hair accessories. It comes in 7 sizes: one for every hair type and style, and it is attractive instead of looking like it belongs on a teenager. It is comfortable causing no headaches. Many can even be worn in the pool or while sleeping. It is long-lasting with durable materials that don't stretch out or change in size, and it is appropriate for everyday or special occasions. In addition to the Flexi Clip, they have added super-hold bobby pins, U pins, hairbands and hairsticks, as well as a customizable Leather line. They are also introducing an amazing new hair care line beginning with Rosewater Spritz and Sea Salt Spray.
Mama Bear's Baby Beads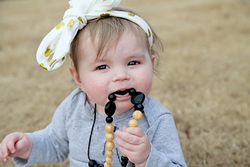 No need to fear that you will never get to wear your fragile necklaces and bracelets due to the constant tugging and grabbing while nursing your little one. Instead of hefty jewelry repair or replacement costs from accidental breakage,
Mama Bear's Baby Beads
knew there had to be a better way to continue wearing jewelry without sacrificing fashion or quality. These fashionable, stylish teething necklaces and bracelets are perfect accessories for any new mother. Consisting of durable, silicone teething beads and a breakaway safety clasp, your new bundle of joy will stay busy & safe during feedings while mom can still look her best. With many different combinations of colors and styles available, there is sure to be a Mama Bear's Baby Beads to fit your fashion sense.