back to last years exhibitor list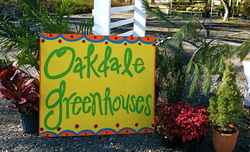 Oakdale Greenhouses, LLC
exhibit # 1543
Charlotte's largest tropical plant retailer, with 20,000 square feet of indoor houseplant greenhouses, open year-round to the public.

We sell outdoor landscaping shrubs, trees, ornamental grasses, citrus trees, fruit trees, aquatic plants, koi, succulents, cactus, annual bedding plants, perennials & herbs.

In addition, we provide short-term event Plant Rentals, such as palms, ficus, ferns, & Peace lilies.