SPECIAL GUESTS
Val Chmerkovskiy of Dancing with the Stars
Fan favorite, world champion dancer, and reality star Val Chmerkovskiy of Dancing with the Stars will be appearing at the Southern Women's Show in Raleigh on Saturday! Chmerkovskiy is a two-time winner of the hit ABC celebrity dance competition, as well as a two-time World Latin Dance champion and 14-time U.S. National Latin Dance champion. He is also the author of "I'll Never Change My Name: An Immigrant's American Dream from Ukraine to the USA to Dancing with the Stars, which chronicles the failures and successes that have shaped him, from his early life in Ukraine to immigrating to the U.S. to his ascent to pro dancing stardom.

Chmerkovskiy will appear on the Fashion and Entertainment Stage to share the behind-the-scenes details of filming Dancing with the Stars, what it was like to grow up as an immigrant in Brooklyn, how he achieved career success amidst the ups and downs, and what others can learn from his inspirational life experiences in pursuit of their own dreams.

With a general admission ticket, you can see Val when he appears onstage for a moderated Q&A, but the ONLY way to meet & take a photo with him is by purchasing the Meet & Greet Package. This $35 package includes an exclusive meet and greet with Val, a ticket to the Southern Women's Show, Women's Show reusable shopping bag, a copy of Val's book I'll Never Change My Name: An Immigrant's American Dream from Ukraine to the USA to Dancing with the Stars, and reserved seating at the Stage for Val's public appearance. Limited availability! Click HERE to buy!
Chef Monica Spices up the Cooking Stage
Chef Monica is a charismatic celebrity chef, who has competed and entertained audiences locally and nationally on platforms such as Food Network's Guy's Grocery Games, Cutthroat Kitchen and a guest on Chef Jeff Henderson's Flip My Food. She hosts cooking classes for youth, hospice survivors, and families of domestic violence, executive teams, suicide prevention, churches, seniors, girl's night out, and other special occasions.

Her company, Chef Monica Blends, released its signature spice line in 2018. Chef's Spice Blends can be purchased on Amazon Prime and at the Southern Women's Show. Chef Monica inspires audiences with her personal mission of "bringing families back to the table". She loves encouraging families to cook at home more often with fresh ingredients, creating healthier eating habits. Her #Eat2LiveLonger campaign encourages families to gather at the kitchen table, eat more meals that are farm-to-fork, and create a sustainable healthy eating lifestyle. She has challenged herself to take classic southern dishes and make them a little lighter with fresh foods and fusing them with other cuisines.

Chef Monica is the proud host of the Cooking Stage at the 2020 Southern Women's Show. Stop by the stage or her exhibit space to sample her delicious creations and take home great tips for your own kitchen!
Chef Angela Knox
Chef and Author
Angela (Nikki) Knox
is the owner of The Vine Catering, a top-rated catering business operating out of Greensboro, NC, Nikki is originally from Salisbury, NC where she first developed her love of cooking. She has been in the business of ministering through her love of cooking since 1997 starting from selling plates, to opening restaurants, managing cafeterias at major universities, feeding the homeless, a chef and partner at a historical bed and breakfast all while growing The Vine Catering. Nikki enjoys cooking for a romantic party of 2, wedding receptions for hundreds and corporate events feeding thousands. In her "spare" time she enjoys spending time with her 3 amazing kids, family and her sister friends. She loves to dance, discover new restaurants, write plays, sing karaoke and above all else serve the Lord. She can be found on her YouTube cooking channel,
Xtra Sugar with Nikki
.
"Bacon, Butter, Sugar, Makes Everything Taste Better"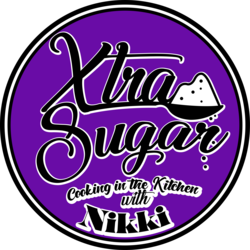 Amazing Grace Etiquette
Amazing Grace Etiquette
was launched in 2003, by
Dr. Donna E. Corbett
to provide innovative etiquette education to adults and children throughout the Triangle area. Dr. Corbett has overwhelmingly convinced countless parents, school systems, businesses and community-based organizations that etiquette education is essential to the social development of youth and adults. With over 20 years of experience in the etiquette education and modeling arenas, success in her growing business venture was inevitable.
Dr. Corbett will be hosting her game show, "How Well Do You Know Your Etiquette?" on the Spotlight Stage.
Contestants are paired off with questions from simple etiquette that you thought you knew to etiquette for formal settings.
Makya Griffin
Makya
Griffin
is a former member of the Dancing Dolls from the hit TV show
Bring It
on
Lifetime
. During her times on the show she held the titles as Head Drillmaster, Co-Captain and Captain. Makya has toured with the Bring It Live Show for the last 3 years. Besides overcoming dancing in front of thousands of people every week, Makya dealt with having asthma attacks while dancing. Makya's rule of thumb is "Never let an illness hold you back from your dreams. Knowing that you are being judged and your team is depending on you, "NEVER GIVE UP." Makya's biggest accomplishment was graduating from high school on May 29th, 2019 and the next day she moved on campus to further her education at Alcorn State University where she is studying Pre-Physical Therapy. At the age of 17 Makya was offered her first job as Jr. Coach and choreographer with the Unique Tigerettes out of Clayton NC. One of Makya dreams is to open her own dance studio in the future.
Jaylene Rodriguez O'Garro
Jaylene Rodriguez O'Garro
is a young dancer from Binghamton, NY who became a cast member of season 5 of
Lifetime's
hit TV show "
Bring It
!" Jaylene is a versatile dancer, but it was her acrobatic and contortion skills that catches the crowd's attention. Jaylene has since been reposted by Cardi B, Young Joc, Wolftyla and Amara La Negra.
Shop Smart
Since 2009, Faye has been the
WRAL Smart Shopper
for WRAL-TV, Raleigh's premier television station. As a money-saving and deals expert, Faye's goal is to help readers save a tremendous amount of money on their groceries and every day expenses. She makes it easier for her readers to live more comfortably within their means and stretch their hard earned incomes farther than they ever imagined. You can find Faye and her money saving advice and deals on WRAL
Website
,
Facebook
, and
Twitter
.
Discount Tickets Available at Harris Teeter!
Discount tickets for the Southern Women's Show can be purchased for just $9 at Harris Teeter starting May 27. Click here for a list of participating locations.