back to last years exhibitor list

Sun Tan City
exhibit # CANCEL

Our Experience Helps You Shine!

Some tanning salons boast cutting-edge equipment. Others talk about knowledgeable staff. And some focus entirely on price. But our secret to success? We know you deserve all of these and more!

Step 1: Superior Equipment

At Sun Tan City, we only invest in sunbeds with proven tanning power. For each sunbed, we carefully select lamps designed to deliver deep, dark tans. Sure, it costs us a little more, but if it helps us deliver on our mission to provide the best results, it's worth every penny.

Step 2: The Best Skin Care Products

We research the best skin care products on the market and offer them in conjunction with our modern tanning equipment.

Step 3: Well-Trained Tanning Consultants

We give our employees the best training so they can help you choose the combination of lotions and equipment that will be most effective for your individual skin type and tanning goals.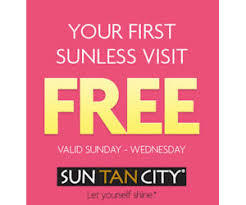 First Free Sunless
Sun Tan City
In Salon Only Offer.

Visit our local Sun Tan City's in Cary, Raleigh, Durham, and Garner!!!

We offer VersaSpa, Norvell, and VersaPro throughout our triangle salons. If you have never sprayed with any Sun Tan City - your first one is on us!
Offer Expires on January 1, 2021
Our certified tanning consultants demonstrate an expertise and enthusiasm for tanning that match up with Sun Tan City's company mission. By training our tanning consultants the right way, you're guaranteed quality advice and expert service every time you visit Sun Tan City.