FUN + PRIZES
BINGO is Back & Better than Ever!
Bring your lucky charms to Southern Women's Show because 96.1 WEJZ will host Pick Your Purse Bingo again this year! Each winner gets the choice of one mystery purse. Plus, all bags will be filled with special gifts from WEJZ. Could the special prize be a t-shirt, CD, concert tickets? Find out if you are one of the lucky ladies to call out, 'BINGO!' Thank you to Salena's Accessories in Atlantic Beach for providing all of the beautiful purses for the BINGO games on Thursday & Friday at 2pm.
Being Creative is Fun with Yaymaker
Who is Yaymaker, anyway?
Yaymaker is from the creators of the Original Paint Nite and Plant Nite.
Yaymaker offer locally crafted events where you'll laugh, drink, connect, and try your hand at something new—a new restaurant to visit, a new group of people to hang with, and always a chance to make a new creation. Our one-of-a-kind experiences include the Original Paint Nite, Plant Nite, Design a Sign, Flower Workshop, Candle Maker, and our Innovation Lab.
Our partners and hosts live to bring fun, creative ideas to life so you'll see new locations, limited-time specials, and seasonal events pop up on the calendar every week. We're adding more all the time and Yaymaker.com is where you'll be able to find them.
Grab your friends and get ready to paint, plant, tinker, and build. Come make some yay and give your week something to shout about!
Check the Culinary & Create Stage Schedule closer to the show to see which experience fits your creative side!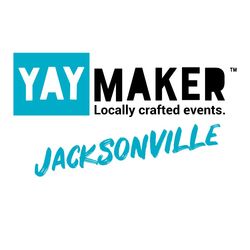 Experience The Photomobile
We are the owners and operators of The Photomobile, a photo booth built into a Vintage Volkswagen Bus. We think she is the cutest thing ever and want her to be at your next event.
Say hello to Ann the Van. Beep Beep. When you approach the bus, the side door is open and ready for you. Make sure you check out back of the bus and grab a prop first. You hop in the bus and music is playing and air conditioning is blowing. There are lights all round you. When you look forward there is a 24 inch touch screen in front of you. You touch the screen and it starts the countdown to your first photo. You will get three pictures total and the it will either print off a copy or send you a digital copy via text message.

Photos are $5 and free for digital.

Ann the Van was born in 1972 and is mostly original. Born in New Mexico, she lived with her original owner and name sake, Ann. Ryan purchased and drove her halfway across the country to live in the oldest city, St. Augustine, Florida. With updated floors, vinyl and curtains, she is looking amazing. Everything else is original from the day she drove off the showroom floor 47 years ago. She is a beauty!
15 Minutes of Fun
Head to the Fashion and Entertainment Stage for 15 minutes of fun with GEICO where you can get your photo taken with the GEICO GECKO and sign up for a beach bag filled with goodies. Plus, win other free prizes! Then swing by the GEICO exhibit space #1529 for a chance to win a $200 gift card and other prizes, all courtesy of GEICO! For a free rate quote visit geico.com.
Plan a Dream Vacation
Spin the wheel to receive a discount of $100 or $200 off your next vacation in the Diamond Resorts exhibit. You could even win a free cruise!
Join Us on Facebook!
Show your friends that you are a fan of the show and be rewarded for your loyalty! Look up Southern Women's Show – Jacksonville on Facebook and hit "like". You will get the inside scoop on breaking show news and HUGE savings on admission! Join Us on Facebook!