back to last years exhibitor list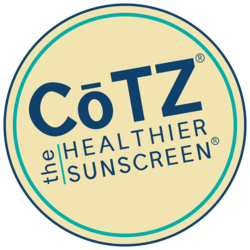 Cotz
exhibit # CXL
CoTZ STANDS FOR: Contains Only Titanium & Zinc.
CoTZ contains no chemical sunscreens, which can be irritating, penetrate your skin, and absorb UV energy. Mineral sunscreens are inherently gentle, and work by reflecting away harmful rays. So you never have to worry about harmful rays heating up and absorbing into your skin.

OUR SUNSCREENS ARE:
REEF FRIENDLY
No oxybenzone, octinoxate, or other chemical sun filters. CoTZ mineral sunscreens are a safer solution for your skin, as well as the world's coral reefs.
PRESERVATIVE FREE
Our products contain no parabens or other preservatives.
GLUTEN FREE, FRAGRANCE FREE, DYE FREE, PHTHALATE FREE
CoTZ focuses on what you need…gentle mineral sunscreens in elegant formulations…and skips things like fragrances and dyes that you don't need.
NO ANIMAL TESTING
CoTZ products and the ingredients we use are not tested on animals.